BIO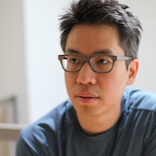 J.P. Chan is a self-taught filmmaker living in New York City. A Picture of You, his critically acclaimed debut feature film, was released in 2014. He holds a graduate degree in urban planning from NYU and was born in New Jersey to working-class immigrant parents. He makes his movies while working full-time as multimedia director for the MTA, the New York metro region's public transportation agency.
More info: J.P. Chan on IMDB.
AWARDS & FELLOWSHIPS
2014 Best Screenplay for A Picture of You, Los Angeles Asian Pacific Film Festival
2008 IFP Panasonic Digital Filmmakers Grant
2008 NYFA Fellowship in Video
2006 Urban Artist Initiative Grant
SPEAKING ENGAGEMENTS
I've held my Don't Quit Your Day Job filmmaking workshop at various venues for groups big and small since 2009. I also participate on panels and at events related to filmmaking and Asian American culture. If you'd like me to speak to your group, contact me.
ABOUT THIS SITE
This version of my website runs on WordPress, using the Eclipse theme from CyberChimps.
My blog started in 2004 as a cameraphone photoblog but became more of a free-form blog in 2013. The cameraphone photos were taken with Apple iPhones (Nov. 2007-present) and Palm Treo 600 & 650 phones. (I guess you could say it was Instagram before Instagram existed.) As of fall 2017, the blog is temporarily unavailable but will return to this site eventually.
J.P.'s workshop photos were taken by Mimi Nolledo.